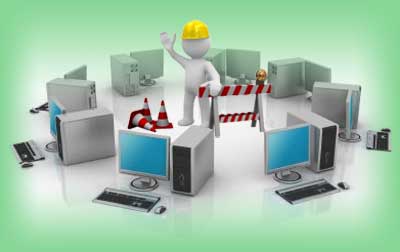 Computers Support & Maintenance - it's a set of services to ensure continuous operation of all computers in the company.
Computer Maintenance service is oriented to any company, but especially attractive to small and medium businesses.
Service Benefits
Increase of efficiency. We are specialists with rich experience in various areas of IT. We keep improving the level of knowledge in the modern technologies.
Increased reliability. We always provide you a specialist with the skills, required to perform the quality work and solve your problem. We are always on-line and at any moment we are ready to come to the aid.
Economic benefits. You will be able to reduce yours costs while keeping the same level of service.
Documentation. We document our work of the computers maintenance and leave these documents to our clients.
Service Description
During the computer maintenance we perform the following work:
Audit. The objective of audit - inventory and fault tracing in the operation of computers. The results of audit - a report containing a list of issues and recommendations how to solve them. If issues are found, then the next step - configuring and optimizing your computer.
Configuring and optimization of the computer. At this step, we solves the problems, that were identified during the audit.
Maintenance of computers. Our specialist, remotely or at your office, performs preventive maintenance tasks according to the agreed schedule.
Emergency call. In the force-major events, you can contact our specialists by phone or e-mail.
Computers Support & Maintenance - this is just one of our services. We recommend you to pay attention to our related services.
Network Support & Maintenance
Website Support & Maintenance
Together they can provide a really effective use of IT technologies in your company.