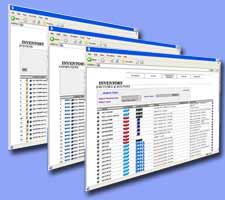 Network Audit interrogates all computers and notebooks on a network and reports back with complete information about the OS, service packs, hotfixes, hardware, software, running processes, etc. on remote machines. This information may be added to the centralized database and then network administrators can generate reports about each or all of the PCs (notebooks) on a network.

As an option we can design and develop a web-based, database-integrated inventory system, which:
Store all auditing information in the central database
Generate network's reports
Plan the hardware and software upgrades
etc...
The objective of a network documentation binder is to help your organization track all essential documentation pertaining to your computer system. In addition, establishing a network binder will assist you in developing contingency plans for what to do and who to contact if problems arise.
Because this binder is strictly for your benefit, there is not a specific way in which it should be organized. The main issue is that it should be designed to provide accurate information in a manner understandable to your staff. Following are recommended categories to be included in a network documentation binder:
Identification of servers, workstations, printers, routers, switches, etc.
Description of each device on the network, including make, model, serial number
Network topology diagrams, including placement of servers, routers, switches, firewalls, etc.
Internet provider information
List of supported network operating systems (Win2K Server, NT4, NetWare 5, Linux, etc.)
List of supported client operating systems (Win2K Pro, Win98, MacOS, Linux, etc.)
List of supported network protocols (TCP/IP, IPX/SPX, AppleTalk, NetBEUI, etc.)
DHCP server settings, including scopes and options
Network security settings
Troubleshooting history/administrator's activity log
Network baseline information
Fault tolerance mechanisms in place
Physical location documentation
Policies and procedures